Completed in 2015 | Area: 700 ha
Phong Dien District, Thua Thien Hue Province
"Low-cost industrial park with abundant natural resources"
Phong Dien Industrial Park located in Thua Thien Hue Province was officially commenced in 2015 with the total area of 284.6ha. This industrial park has abundant sand resource which is suitable for the development of processing prime glass products.
Thua Thien Hue Province has Phu Bai Airport, one of the 4 most modern airports in the country, and Chan May deep-water port which can serve vessels with tonnage of up to 30,000 tons. Thua Thien Hue has enormous advantages for transportation and trade.
Furthermore, its abundant agricultural, forestry and fishery resources can meet the demand of on-site exploitation for various industries. In recent years, besides focusing on developing synchronous technical infrastructure and social infrastructure, Thua Thien Hue is continuing to improve the investment environment, issue incentive policies, support investment and enhance the province's competitive advantage.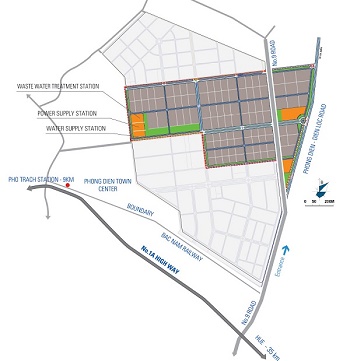 SCALE OF PHONG DIEN IP
Area: 700 ha
Commencement: 2015
Operation time: 50 years
Main investment sectors in the IP
– Building materials
– Processed products from sandy materials
– Agro forestry, engineering
– Textiles, footwear
– Seafood processing
– Manufacture and assembly of automobiles, motorcycles …

Traffic
Approximate 35km far from Hue city.
Near National Highway 1A and North-South Railway.
20km from Van Xa Goods Station.
Seaport
30 km far from Thuan An sea port.
120 km far from Tien Sa sea port (Da Nang).
Approximate 70km far from Chan May sea port.
15 km from Dien Loc specialized seaport (30 minutes);
TECHNICAL INFRASTRUCTURE
Internal Traffic
Mainroad with 2 lanes of 63 m and 48 m, branch road of 26.5 m.
Industrial internal road system connected to provincial road No. 9 and connects to National Road No. 1 for convenient transportation
Power Supply
Power is supplied from national system through 110/22KV transformer station with capacity of 40MVA.
Water Supply
The capacity of water Supply station is 11,000 m3/day.
Water supply system connects to the fence of each enterprise.
Drainage system
Rain water drainage system is constructed separately with waste water drainage system in the IP. The diameter of underground rain-water drainage pipe is D600 mm – D1000mm with the principle of automatic drainage.
Waste and waste water treatment
Waste water treatment Station with capacity is 8.500 m3/day. (Industrial waste water is by 80% the quantity of water supply).
The diameter of waste water drainage pipe is D300mm – D900mm
Telecommunication system – Internet
Telecommunication system reaches the international standard and is willing to meet the demand of communication, high-speed data transfer and internal and external post office service.
Underground cable system is connected directly to the fence of every factory.
SERVICES OF PHONG DIEN IP
Bank
Viettinbank in Phong Dien IP
Post office
Telecommunication system reach the international standard.
Underground cable system is connected directly to the fence of every factory.
Customs
Thua Thien Hue's Custom office located in Hue City.
Fire prevention
Water supply system with modern fire-fighting equipments are located along road lines of the IP.The distance between fireplugs from 120m to150m with fire-fighting pillar diameter is D125mm.
Hospital
Phong Dien Hospital is only 5 km far from Phong Dien IP.
IP ADVANTAGES
Abundant sand resource which is suitable for the development of processing prime glass products

Favorable location, traffic convenience

Available premise to build factories

Synchronous and complete technical and social infrastructure

Attractive rent rate

Low labor cost

The leveling altitude is 5m and higher