Completed in 2006 | Area: 363 ha
Long Hau Commune, Can Giuoc District, Long An Province
Long Hau industrial park is known as "green industrial park" for the sustainable development of investors. In 10 years of establishment and development, construction and protection of the environment are always laid at top priority by Long Hau IP
Long hau is a mixed industrial park, attracting different industries and less polluted ones…

Strategic Location
Long Hau IP belongs to the priority strategic area named "Forwarding to the East Sea" to develop industry for Ho Chi Minh City and Long An Province, only away:   
3 km to Saigon Premier Container Terminal (SPCT) and Saigon – Hiep Phuoc Seaport and Hiep Phuoc New Port
12 km to Phu My Hung New City.
19 km to Ho Chi Minh City.
25 km to Tan Son Nhat International Airport.
25 km to Long Thanh International Airport (Estimated complete in 2020)
Long Hau Xanh Apartment Building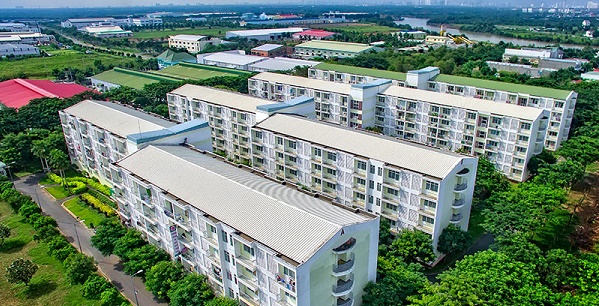 Long Hau Corporation introduced Long Hau Xanh apartment building project located at Long Hau Industrial Park. Apartment building has 600 apartments, 300 apartments in two blocks for long-term lease, 100 apartments in one block for services, commercial space, and one block (150 apartments) for sale, allowing residents to own completed apartment in good price with 349 million for 40 m2 apartment. Just pay 100 million for receiving apartment and the average monthly contribution 3 million in 10 years.
Long Hau Xanh Apartment Building is rated as building friendly with environment, green tree area close to 7,000 m2, fully utilities as Food Coop (Coop Mart), ATM, clinic, police station , outdoor sport court, children's playground, soccer fields, camping park, BBQ ... Especially residents also participate in free activities on education, life skills training, basic working.
Three basic benefits to residents such as:
 Save time: Working in industrial park, you no longer have to worry about traffic jams, risk, stress in traffic ... You will have more time to take care of your personal life and family.
Save cost: No worries constantly rising rents, higher utility rates, flooding rain, hot sun ... And more, residents will enjoy all the amenities for professionals.
Stable development: - Participate in life-skills training, computer classes, English and Japanese classes free for workers. - Physical development with outdoor sports area with many free useful device, mini football ground, badminton courts, walking paths ... playing area for children. - Enhance spiritual life for laborers. Besides the wide green park near 7,000 m2, where residents seek to relieve stress after work hours, free movie screenings…
INFRASTRUCTURE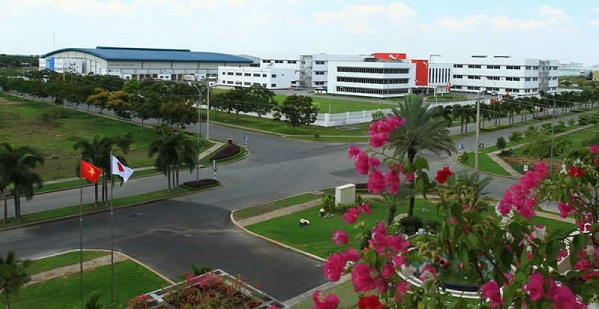 Internal transportation system
Traffic road: 16,65 hectare
Width of center road: 45m
Width of other roads: 25 - 35m
Kinh river port: 1,6 hectare with capacity for ship of 1,000 tons and barge of 6,000 tons
Power Supply System
Medium voltage system to border of land plot , meeting construction of factories and low-voltage supply for the project. 
Long Hau IP is supplied by two sources:
 National Electricity Systems: Can Giuoc power station 110 KV/37MW- Long An Electric system.
 Power Station 110/22KV - 37 MWA (located in Long Hau IP)
Supply voltage: 22 KV - Frequency: 50 Hz.
Telecommunication system:
Telecommunications system is supplied by East Ho Chi Minh City Telephone Company, using Ho Chi Minh City telephone area code 08, tenants will be supplied high speed optic cable networks with bandwidth up to 4 megabytes, which is available for ADSL, leased-line, and other services. With phone systems provided customers by East Ho Chi Minh City Telephone Company, investors will reduce inter-provincial cost calls to Ho Chi Minh City. By initial telephone numbers of Ho Chi Minh City, with two communication solutions transmitted for copper cable affixed and optical cable, ensuring contact information of customers transparently.
Clean Water Supply System
Clean water supplied by 2 sources:
Purified underground water factory has capacity of 10,000 m³/ day and night.
Ho Chi Minh City water supply has capacity of 15,000 m³ / day and night
Quality by Vietnamese standard (TCXD 33:2006)
Wastewater treatment system
Wastewater treatment system reaches the Standard Level A, capacity 2,000 cubic meters per day and can upgrade to 12,000 cubic meters per day.
Concentrating wastewater treatment with 10,000 square meters of area is responsible for wastewater has been cleaned from primary production facility located in Long Hau IP.
SOCIAL INFRASTRUCTURE
Dormitory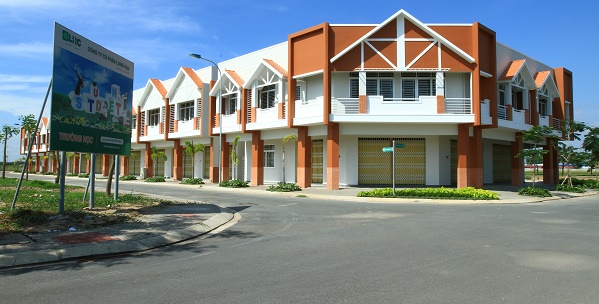 Project scale:
    Area: 6.1 hectare
    Investment capital: 219 billion dong
    5-floor block: 4 blocks
    15-floor block: 5 blocks
    Typical area for each apartment: 40m²
    Traffic land area: 6.285m²
     Area of green tree and public works: 3.3 hectare
    Providing accommodation for 7,200 people    
Facilities:
    Elevator: 2 pieces for each block
    Kindergarten: 144m²
    Mini supermarket
    Canteen
    Sport center including: 1 Mini football court, 2 Tennis courts, 1 Volleyball court, 4 Badminton courts, 1 Swimming pool, 1 Playing court.
    Square
    Parking
    Green tree park: 6.807,84 m²    
Medical station
Medical station of Long Hau IP is established to manage and take care workers in IP. The station serves consulting food safety and hygiene, medical treatment, first aid for normally accidents at work.
Security Forces
With a staff of security working 24/7 with high sense of responsibility will ensure public order around Long Hau IP.
Frequency patrol will make investors feel secure for their factories.
Fire protection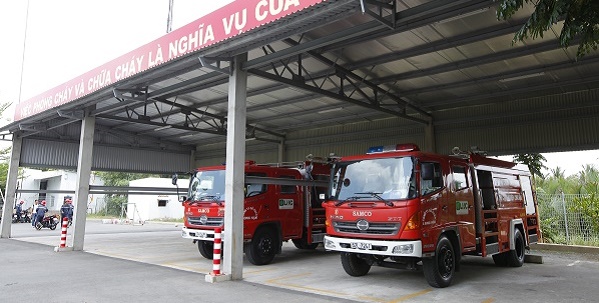 Team of fire protection of Long Hau Corporation was established with a staff equipped with auxiliary devices and high profession.
Periodically training and rehearsal to raise awareness of fire protection and distinguishe, protect, property and handle situations when the problem actually occurs.
Fire protection staff is stand by 24/7, ready to work anytime, anywhere.
Restaurant
In order to serve food, entertainment for managers and workers in Long Hau IP, Long Hau Corporation built Ao Sen Restaurant with space 3.000m², floated on water. In addition, lotus bloomsall time will create extremely beautiful and poetic.
Courteous and hygienic serving style will bring you delicious meals   
SERVICES
Customs clearance onsite
With Customs Office inside Long Hau industrial park, our tenants are guaranteed for the convenience, saving time, and saving cost in doing customs clearance procedure for both import, export goods.
Moreover, customs official are also can conduct customs clearance services at enterprise's site to help investors saving time and cost more effectively.
Banking
Banking services are available for Long Hau industrial park's tenants with credit and reputable Banks located in the area as: VietinBank, Agribank, HDBank, BIDV…
Network of Banks in Long Hau industrial park's area are capable for any types of banking services from domestics or international banking transaction, individual banking, corporate banking…
Logistic and forwarder  
Producers locate in Long Hau Industrial park enjoy the benefit of our strategic location which is:
- Only 19 km from biggest commercial hub of Vietnam – Ho Chi Minh City
- Only 3 km from sea port system: SPCT deep seaport (capacity 1.5 million TEU/ year), Tan Cang – Hiep Phuoc port ( capacity 420,000 – 480,000 TEUS/ year), Sai Gon – Hiep Phuoc port (capacity 8.7 TEUS/ year)
- Easy to access Mekong Delta, and other nearby areas through both in –land and seaway transportation
- Network of logistic/ forwarders, warehouse and storage services providers in the area.
| | | | |
| --- | --- | --- | --- |
| Investor | Nationality | Cold warehouse | Waterless warehouse |
| Lotte sea Logistic | South Korea | 23.000 pallets | 2.000 pallets |
| Swire Cold ( 2016) | Australia | 38.000 pallets |   |
| Anpha AG | Vietnam | 8.000 ton |   |
| Cat An | Vietnam | 250 ton | 5.000 ton |
| ANC | Vietnam |   | 3.600 ton |
Click vào ảnh để phóng to