2nd Phase goes in operation in 2008 | Scale 1.686 ha
Long Thoi commune and Hiep Phuoc commune, Nha Be district, Ho Chi Minh City
Ideal location for all investors.
Being located in Ho Chi Minh southern, Hiep Phuoc IP is just far away 15km from the Ho Chi Minh City's Center, 20km far away from Tan Son Nhat International Airport, 10km far awary from the most modern Phu My Hung Urban area  with a lot of international Univiersities and Colleges where will supply to investors a lot of good dwelling places and skills labor forces, as well as the Nha Be district vocational school for worker training in the next of Hiep Phuoc IP and the greatest different advantages of Hiep Phuoc IP compared with other Ones, due to have the deep water ports inside, its location being rightly on axis of the main roands, National Express ways and locally and globally water transportation system, so it is the great economic center not only in Ho Chi Minh city but also in the Southern Key Economic Region of Vietnam (SKER).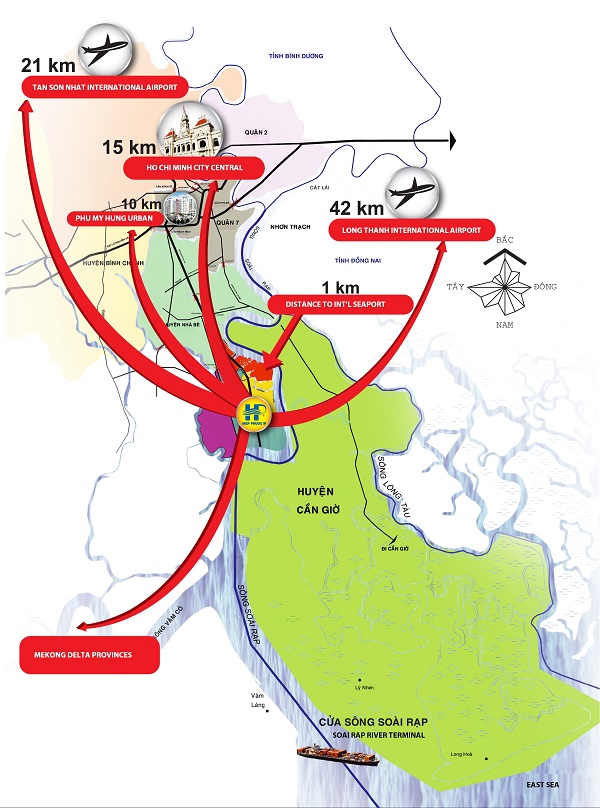 - Internal transportation system: HIPC had invested the perfect internal fishbone road system with the width from 15 to 60m leading thoroughly to each investor factory.
- External road transportation system: HIPC is proximity to HCM's belt road No.3 that are connected to the National highway system at Ben Luc, Long An Province and other way leading to Long Thanh international Airport, Dong Nai province. HIPC locates on the HCMC's belt road No.4 along with the national rail road system leading to Hiep Phuoc port system. From HIPC, by South-North road axis through Nguyen Huu Tho street, can access to Nguyen Van Linh park way to HCM's belt road No.2 or access to Vo Van Kiet Avenue (West-East road axis) to HCMC's belt road No.1.
- External water transportation with deep water port system: At present, all international vessels can access to HIPC by Long Tau and Soai Rap channel, but after 2015 – 2020 period, when Soai Rap channel shall be dredged up to minus (-) 12 meters depth, the Soai Rap shall be the main channel for accessing to Hiep Phuoc port system. From Soai Rap channel, the domestic water transport ships can access to Vam Co river and leading to Mekong River system (Mekong River Delta) even leading to Combodia. From HIPC the cargoes can be transported by barge to many industrial parks and ICDs such as ICD Phuoc Long, ICD Song Than,… Due to its ideal location just on the Soai Rap river's bank, there are a lots of deep water ports inside HIPC,
Sectors of priority:
- Seaport services
- Hi-tech industries, clean technology and non polluted sectors…
Development scale and advantages
Hiep Phuoc IP has the total area of overall master plan of 1,686 ha with three phase development as follows: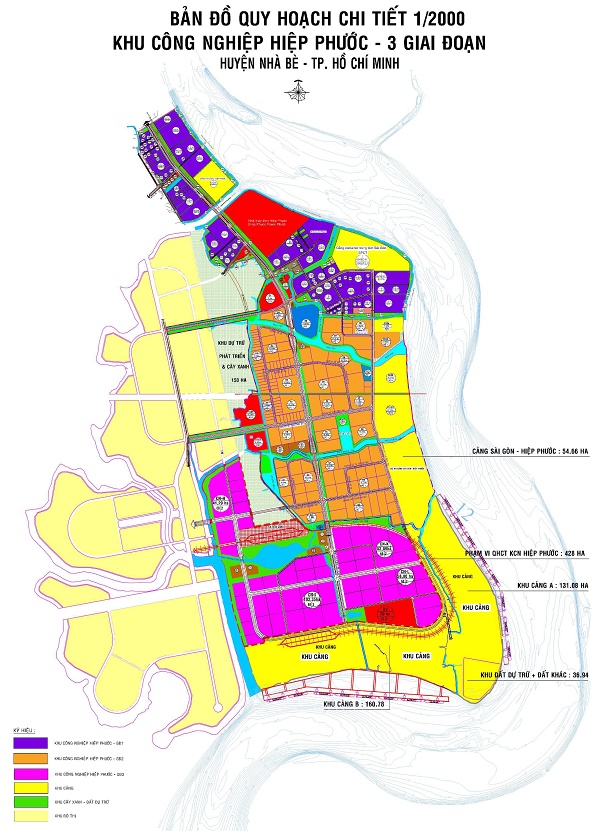 Phase 1: 314 ha, the leasing term of Phase 1 in being until to 29th December 2048. So faf, having over 109 investors who leased the land and constructed their own factories and put it under operation already. The filling rate of Phase 1 is hit 100%.
Phase 2: 597 ha, the leasing term phase 2 in being until to 23rd September 2058,
Phase 3: more than 392.89 ha is on the under land clearance progress.
SeaPorts: more than 384.71 ha is be continueing to make a feasibility study.
Advantages:
A unique difference of Hiep Phuoc IP is located just on site of the Sai Gon Premier Container Terminal (SPCT) port, the Tan Cang- Hiep Phuoc terminal, the Sai Gon – Hiep Phuoc Port (under constructing) and other future deep water ports of Ho Chi Minh City. At current our SPCT, Sai Gon-Hiep Phuoc and Tan Cang-Hiep Phuoc terminal can berth the Vessel of 30,000 to 50,000 DWT for navigating to access and in the near future for the vessel of 70,000 DWT accessing. Those will provide so much transportation conveniences and save tenants' transportation fee.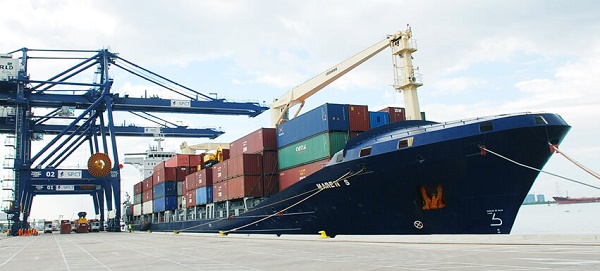 Customs and shipping services on the spot: There's Ho Chi Minh city Customs Branch located inside SPCT port, so the time consumption for Export- Import formalities is about 30 minutes for each shipment and it take abouts less than 8 working hours for loading the container to free on board since customers' goods delivered the the port authority. The customs clearance can do at the port yard or at the customers' warehouse. In the coming year, Ho Chi Minh city's customs office will open a inland container depots (ICDs) in Hiep Phuoc industrial park with area of 80,000m2.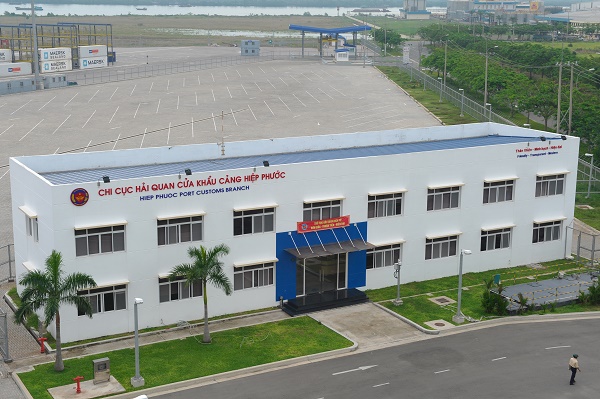 No risks of flooding: Land elevation : + 1.633m to 1.800m for leveling and from + 2.300m to 2.600m for your factory foundation (compared with national standard sea level elevation – Hon Dau) so there are no risks of flooding and submerging.
Power, water and natural gas supply
Hiep Phuoc industrial park is given priority to supply the power instructed by Ho Chi Minh city leader. At present, there are the 22 KV electric grid being ready set up to investor's fence in HIPC, with two 110 kV substations, its total capacities up to 184 MW connecting with national electricity grid. The power guarantee to supply 24/24 permanently.

- Natural gas supply: by Hiep Phuoc Natural Gas (NG) distribution station conducted from Ba Ria –Vung Tau province with the capacity of 2.3 to 2.5 million cubic meters/24hour
- Standardized quality water supply resources : Water supply sources are from Saigon water company and Long Hau underground water company. The total potential supplying quantity is up to 40,000 to 45,000 m3/day.
- Waste water treatment facilities: The central waste water treatment plant had been invested and operated by Hiep Phuoc IP. The current waste water treatment capacity is 6,000 m3/day.
Incentive policies:
- The CIT incentive policy: The businesses who invest their new projects in Hiep Phuoc industrial Park will be afforded the incentive CIT as follows: The first 2 (two) years exempted, the 4 (four) consecutive years reduced 50% compared with the current applicable tax rate.
- If investor's industries belong to hi-tech industries then investor will enjoy the incentive Corporate Income Tax (CIT) rate of 10% during fifteen years since issuing the Certificate of Investment or Business Registration, as from sixteenth year onward CIT's rate will be applied by the current applicable law and the exempted process as 4 year 100% exempted CIT, 9 consecutive year for 50% exempted CIT since taxable income.
- Import- Export Taxes totally exempted when Foreign Investors import the machinery line, equipments… for equipping their own factories.
- Import- export Taxes exempted when foreign Investors import materials for producing the finished products then that are exempted.
- Exempted VAT for the products (Materials) that are imported temporarily and re-exported later.
Exempt the tax for repatriating Investors' profits after fulfils their duties in Vietnam.
Click vào ảnh để phóng to