Completed in 2012
239 Xuan Thuy, Cau Giay, Hanoi
Indochina Plaza Hanoi (IPH) is a fully integrated lifestyle space combining complementary residential, retail and commercial space in a dynamically designed mixed use context.
The property comprises a 11 storey Grade A office tower with 14,000 sq m (net) flanked by twin residential towers.
Completed in 2012, IPH is the one of the most significant mixed-use property developments to be launched in Hanoi to date and offers a truly international working and living environment to its residents and commercial tenants.
IPH has attracted many quality office tenants, including; Baker & McKenzie, AIA, Schenker, Dentsu Media, Indochina Capital, EADS, Eurocopter, Orix, Punch, I Glocal, and Japan Pulp and Paper amongst others.
IPH will provide ultimate flexibility for businesses of all size and the floor plates may be split into 8 unit configurations, varying in size from 122 sq m to 200 sq m.
Office tenants will also enjoy all the conveniences of outstanding shopping, dining and entertainment outlets that adjoin the office tower.
Property features
Construction status: Grade A office space ready for immediate occupation.
Location: Excellent access to all areas of Hanoi and to Noi Bai International Airport; Convenient access to vibrant commercial centre with a wide range of dining, recreation, lifestyle and fashion offers.
Typical floorplate: 1,364 sq m (net)
Total Net Floor Area: 14,484 sq m
Minimum leasable area: 122 sq m
Ceiling height: 2.7m
Property management: International standard building management.
Facilities: Excellent technical and safety features; Abundant car and motorbike parking; Superior design and aesthetics. Winner of 5 regional prestigious awards for its outstanding interior design and architecture.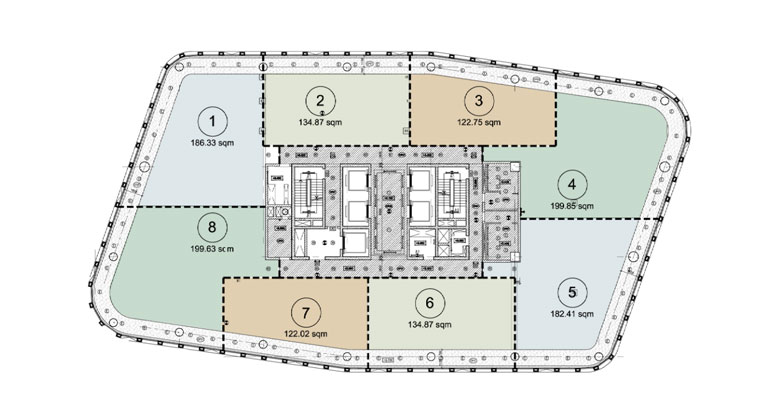 Click vào ảnh để phóng to